I'm working through an exercise where everyday I'm meditating on a different Demon to see which one resonates with me the most. I started Thursday with Belial and had a very strong experience that inspired me.
On Friday, I spent the day making up an oleum to Belial, as well as starting on a shrine and making an amulet. I went with polymer clay for the materials for the amulet and so made a shopping trip to the craft store to buy some supplies.
I have to say that the polymer clay aisle was very intimidating to the uninitiated but after about 20 minutes of staring, that which included 5 minutes of running after my youngest child, I settled on a product. I bought 2 different colors of 'Sculpey III', Chocolate and Leaf Green. I also bought a copper metallic ink pen, some hemp cord, a gloss and a brush for the gloss.
This was my first time working with polymer clay and I had a lot of fun. I broke off about a quarter of the chocolate color and a quarter of the green and started to mold them into a disk. When I got what I wanted, I took a blunt pencil and indented the sigil of Belial on it. I fired it per the instructions on the packet of clay, then filled in the indentation with the metallic ink pen. I then brushed on the gloss, got really unhappy with the results and started again.
This is my second attempt: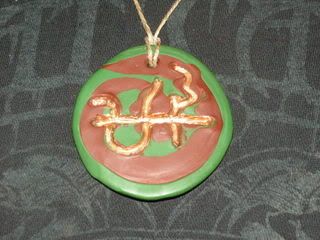 I didn't put on any gloss this time.
I'm happy!