I tried my hand at making some oleum for the up coming Second Rite of Leviathan. I thought it best to first make the base and then later make the specific oleum for Leviathan. I figure I won't make a lot of the oleum of Leviathan which will leave me enough base to make different oleums later.
I went with Base #1 from The Complete Book of Demonolatry since I could easily gather all the materials that I would need.
First I gathered my tools; a double boiler, since I would be heating up oil on the stove top; two 2 cup measuring jugs; a fine mess strainer; a mortar and pestle and a suribachi; some 2 dram bottles and some mason jars.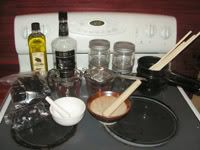 Next I gathered all the herbs I needed.
Since I was using some root I thought that it would be best to grind it up in the suribachi. It was tough work and I didn't powderize all of it, but I thought it was enough.
For the rest of the ingredience I just mashed them in the mortar. I don't think it was really necessary since they were pretty ground up to begin with.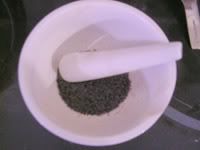 I added them all together in a cup and mixed them up before adding them to the double boiler.
I then added a half cup of Grapeseed Oil. I went with Grapeseed since I've read it is a better oil to use, but I'm sure olive oil will work fine.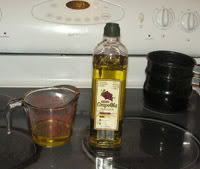 This is what it looked like when I got the herbs and the oil mixed: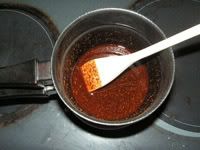 I boiled it for about 15 minutes before straining the oil into a clean cup: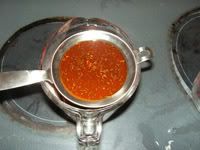 I didn't get a lot of oil from this so I put the strained herbs back into the double boiler and added more oil, and boiled the mixture again. I did this about 3 times in total. I have about 1 cup of once strained oleum base when I was done.
I wanted to strain it some more since there was some sediment sitting at the bottom of the cup.
I strained it a few more times, cleaning the strainer each time and then finished by straining it through cheesecloth.
When I was done, I was pretty happy with the end product. It doesn't smell oily at all but more like the herbs that I used to make it. This picture makes it look greenish but it has a more reddish tint to it.
I'll make the herb mixture for the oleums that I want and add the base to it, then boil it. I'll let you know how that goes!